Florence + The Machine Montreal Concert Review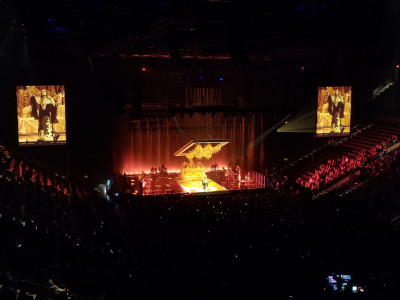 As the lights dimmed and the crowd rose up from their seats, a blinding light appeared from the stage, as did Florence Welch and her band. Not wasting any time, Heaven Is Here, and King, off their most recent album came first. These two tracks would be the first of many off of Dance Fever.
Throughout the night, Florence danced, and skipped around the stage barefoot, without missing a note. Ship to Wreck was next, with the crowd getting even more excited. With such a powerful singing voice, Florence is quite soft spoken and shy when chatting with the crowd. She dedicated the next song Free, to all of those who didn't have a good time in their head today, and with lyrics like, but I hear the music, I feel the beat, and for a moment, when I'm dancing, I am free.
We were free, even if it was just for a few hours.
Daffodil was up next. When the first few familiar notes of the harp rang out, it was time for Dog Days Are Over. Towards the end of the song, Florence made a request to the crowd. She asked us to put away our phones, and enjoy the moment. Just like that, all of the phones were stowed away, and the band played on.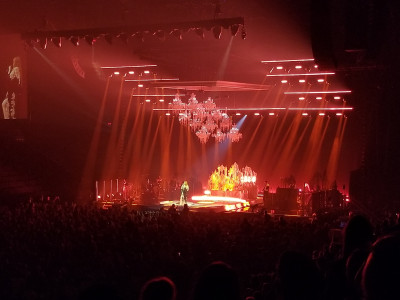 Our phones have become a part of us, so once Girls Against God started, the phones came back out to light up place bell. The stage wasn't big enough for Florence, and during Dream Girl Evil, she made her way down to the crowd to get up close and personal with the fans.
Big God, Cassandra, and What Kind of Man came next followed by Morning Elvis. She mentioned that many of their songs written before the lockdowns have new meanings. June, from the album High as Hope released back in 2018, was one of those songs. With the lyrics, Hold On To Each Other, it serves as a reminder to cherish the moments while we can.
Hunger followed, and then Choreomania. Did you know that Choreomania is also known as Dancing mania, which was when groups of people would gather and dance until they collapsed from exhaustion or injuries. Thankfully, the dancers in the crowd didn't take it that far. Kiss With a Fist, Cosmic Love, and My Love closed out their main set.
Returning back for an encore, Florence started off by telling the crowd how the song to follow was one that she actually wasn't a fan of. She said, "We didn't play this song for about 10 years". She added, "It reminded her of a time of being very young, and very drunk, and feeling so much pressure to make a second album, that she had to make a whole album about moving into the ocean. So, this song brings up feelings that make me uncomfortable, so I tried to push them away, but you lot, you didn't stop listening to it. I gave it to you, and you gave it back to me with love…. I'd like to give this song back to you, because throughout the years, as many times as I tried to let myself go under, you never let me go". And with that Never Let Me Go came next
Their hugely successful hit Shake it Out got the few fans that remained seated out of their seats, before ending the night with Rabbit Heart
This show exceeded all expectations. She was flawless throughout the entire set as was her band, and her stage presence was energizing. This was the first night of their Dance Fever tour, so if they're headed to a city near you, don't miss out. Check out Florence + The Machine's socials for more info.
OFFICIAL // TWITTER // FACEBOOK // INSTAGRAM