Feist Montreal Concert Photos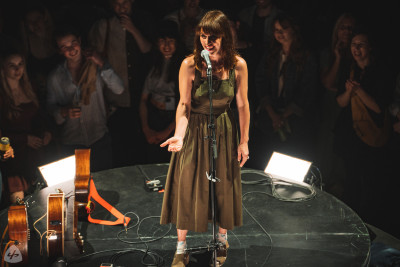 Last night Feist brought her Multitude's tour to the MTelus in Montreal. Now, we've been to a lot of shows, but this was the first time walking in to the venue to find a small round stage placed in the middle of the crowd.
Another first; before Feist took to the stage, the screen behind what's the main stage showed a live video of "someone" walking backstage eventually making their way to the floor. From the balcony we could see that it was in fact Feist weaving her way through the crowd with a camera stopping at time to capture unique shoes or clothing. When she finally took to the stage, she was all smiles.
We were only there to shoot the show, so we can't say how the rest of the night went, but based on what we saw during the first three songs, fans were definitely in for a treat.
Enjoy our photos from the show, and be sure to check out Feist's websites to stay up to date with the latest news.
OFFICIAL // INSTAGRAM // FACEBOOK // TWITTER